Jobs in progress
updated June 22, 2015


Over 16 years of jobs in progress, update #139! I started jobs in progress in January, 1999, when I registered my domain. If you want to find out about plaster and exterior cement
plaster, also known as stucco, you are in the right place.
Thanks for reading. Keep checking back.
Please read my notes
SEARCH:

Lululemon in the Mosaic area of Merrifield, VA.





The design criteria in the Mosaic area
says NO EIFS or synthetic stucco is
allowed.
EIFS not only looks cheap, it looks real shabby with holes knocked in it.

What ? Someone cheated !
More details here..

The finish coat is REAL white portland cement and REAL white sand. This is probably the first building with real stucco in this area since the 1960's.
Finish coat is applied in three steps: One person goes ahead with a scratch coat, another with a double up coat and a third rubbing the wall with a rubber float.
More details here:




The substrate is plywood bolted to the concretewith Bituthene on top.
People pronounce Bituthene "Bitch-a-thane".
I think it should be pronounced "Bye-too-theen".

More about this project:

The whole front is covered with lightweight
.7 mil painters plastic. My band is 130 feet
long so a 20 x 100 roll was barely enough.


Click for More:
Stucco addition in
Washington, DC, where marijuana is legal.





A view of this modern addition on an old house near the National Cathedral.
With plenty of guard rails and planks, no one will fall off this scaffold, unless they did it intentionally.

The finish is REAL portland cement and real
sand. The color is a custom color from Expo
stucco in San Diego.





Real cement stucco window sills. A lot of sills were done here this way many years ago, We are probably the last ones in the Washington area that still do real stucco sills.

This wing on the house had fifty's style cement tiles. These tiles are usually referred to as asbestos shingles. Really they are cast cement, sometimes reinforced with asbestos fibers.

Northern Virginia Auto Body main office
Fairfax, Virginia.





NO FLIMSY FOAM HERE ! The molding detail at the top is done by filling in one step at a time. One day, the big bad wolf will huff and puff and blow off all the flimsy EIFS and my molding will still be there.
More about this project:

The main office at Northern Virginia Auto Body was this old brick and block building that was painted white.
More about this project:




We did the metal framing and the gypsum board on the parapet wall. If you ever wondered why the gypsum board is stood up parallel to the studs and not crossways is for the fire rating.
See how we did it:

You may have seen my chipping and bonding method for stucco over painted brick or block.

More here:

A new stucco house
in Bethesda Maryland.


Scaffold comes down on a new modernistic stucco house in Bethesda, Maryland.



The scaffold is planked and guard railed everywhere.
I have a lot more details of this project.
I'll give it it's own page the next update.

The road to failure and rot !
Horizontal stucco at bottom is porous and
allows water to soak right through. Also, the caulking at the bottom traps water that enters around the window normally.
See below for a window done this way.


The road to success and no rot !

Space under the window alllows for a PVC trim angled down. The drip edge under the window
has a gap and not sealed shut allowing water to drip off the window and down the sill. Since I don't trust Tyvek, we put on a layer of felt paper.


This window on this 6 year old house is done like the drawing above. The 2 x 4 blocking has rotted away and dissolved. The OSB and framing can be scooped out like wet oatmeal. This window had stucco wrap, metal stop and a big gob of caulking with a backer rod. The metal stop , or stucco edge trim was just a thin film of rust. What made things even worse was the synthetic finish that traps water.

Another stucco chimney
Sperryville, Virginia.







We do a lot of chimneys. We did this one just like our normal routine.
Synthetic finish on this maybe ten year old house
Is peeling off and looks shabby.
The cap, or mortar wash at the top is real porous
and has already deteriorated.
We re-did the cap and added a band at the top for a drip edge. We re-stuccoed the chimney.
The finish coat is REAL Portland cement and
REAL sand colored with paint tint from Sherwin Williams.
LEFT: A view of the mountains from our scaffold.


* notes* Jobs in progress is published with the sincere hope that this information about plastering
will be of benefit or interest to somebody, anytime, anywhere.
Hey I am trying to warn the world.
The design for rot is typical of many of the jobs I estimate that are designed for rot.
Common also these days are brick or stone sills at the window or water table line
that are level and not angled away from the house.
After viewing my site, a homeowner had the person who put on the
fake stones pull them off and put them back at an angle.
This didn't happen in the old days. The building we re stuccoed in Goochland
County had that were cut in 1838 with a limestone saw and
angled away from the building. We checked the sill with a water level
and the sill was dead level all the way around.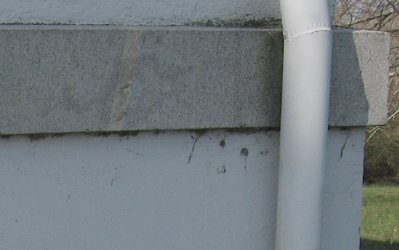 Incorrect flashing over windows and on chimneys, weep holes
under windows and doors caulked shut, unspaced plywood, etc.
is leading the home building and remodeling industry down the road
to impending doom.
I feel like masses of mankind are trudging mindlessly toward the top of a cliff in the desert,
and I need to say something.
I have a lot to say, so please keep checking back.
Reggie